On the first floor of the house, the room Gatien is a shining room with the golden tones of its bathroom, wall paper, Empire office and bedside copper lamps.
The room Gatien celebrates the first bishop of Tours, known for his gentleness and perseverance. He gave his name to the cathedral, a Gothic masterpiece  built between 1170 and 1547 and located 500 yards from the guesthouse towards the Loire river.
A room, facing the street Jules Simon, dressed in shades of gold, honey and wood, it is all elegance and refined simplicity. The marble fireplace, 19th century mahogany desk and elaborate brass lamps give this guest room the exclusive touch and feel of a  small "boutique hotel". 
The room  also inspires serenity. The golden rose window patterns on the walls of the room and the bathroom are reminiscent of the magnificent stained glass of the cathedral's transepts. The decoration of the bathroom is in perfect harmony with the bedroom.
This deluxe room is a perfect match for anyone looking for a boutique hotel in Tours and a central starting point for visiting the Loire valley chateau region.
Bedroom: super king size bed 180cm x 200cm (twin beds possible). Antique desk. Fireplace. Large closet.
Bathroom: en-suite, walk-in shower. Hairdryer. Toilet.
Television, 80cm (32in) Samsung flat screen LED.
Internet Access (RJ45 and wifi).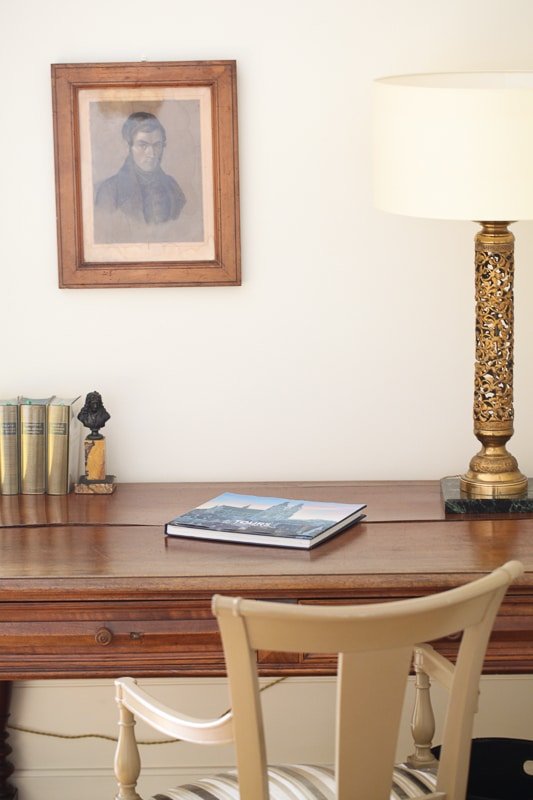 Fabulous!
We stayed at La Maison Jules for two nights in August and could not have had better location, service or accommodation. The house has been beautifully renovated in keeping with its age but with lots of stylish touches. Alexandra was most welcoming and being able to use the kitchen, coffee making facilities, etc was a very friendly touch. Small things made such a difference – we had left a bottle of wine in the fridge to chill and Alexandra thoughtfully left us two glasses and the bottle opener ready for us to enjoy the wine on the terrace when we returned – very thoughtful! We stayed in the adjoining rooms at the top of the house, our 13 year old daughter having the room next to us with a shared bathroom. The only problem we had was that we couldn't leave the window open overnight, as there was no catch to leave it part-open and if it was fully open, the curtain was attached to the window so let the light in. We improvised using a bottle of water propped on the window ledge! We would definitely recommend this as a base if you are visiting Tours and Alexandra is the most pleasant and helpful owner there is! Thanks for a lovely stay.
See rates
Book now
See reviews