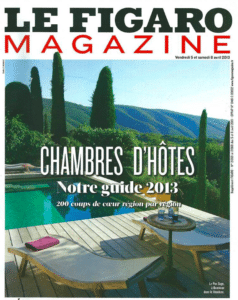 Luxury and pleasure (dixit Le Figaro!)
We do not hide that we are proud to have been selected in the famous "Guide of Bed and Breakfast by the Figaro Magazine" published in addition to the newspaper on April 6, 2013. You will find at the bottom of the page an overview of the article, published in the region "Ile de France and Center".
About twenty guest rooms have been selected this year in the guide of Figaro Magazine.
The accompanying text for the Maison Jules in the Figaro guide of leading French B&Bs:
Certainly the building is sumptuous (mansion of 1860). But what it conceals is exceptional! Homage to contemporary artists and designers. Osborne & Little wallpapers, R. Van der Hilst ceramics, Vincent Sheppard furniture. A creative dynamic in the image of Alexandra, owner of a communicative cheerfulness. A – very – beautiful place where each room is a unique piece.